Problem:

 A new website was long overdue for Gordon-Conwell, a graduate school of theology in Hamilton, MA. There were multiple problems at hand. The school had depended on a very outdated CMS that wasn't mobile responsive and causing major bounce and exit rates. Our home page was inundated with a slough of content that was irrelevant to prospective students. Lastly, locating information for four separate campuses was non-intuitive and left users confused and frustrated.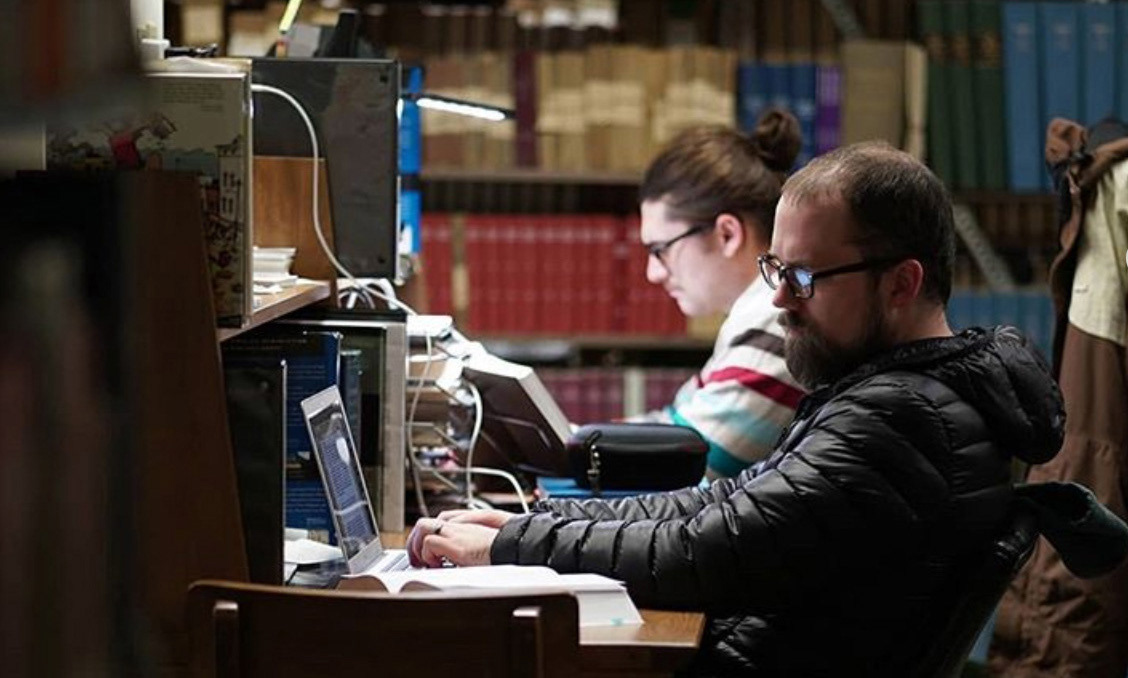 My Role as UI/UX designer:

 I was tasked with being apart of a UX research team that collected information to better understand what content to highlight on our most frequented pages when trying to meet the needs of future students. 
I was also tasked at being the primary UI designer for our web and mobile platforms, to create low and high fidelity wireframes in Sketch and produce prototypes via InVision based on the data that I was analyzing with my team. I worked with developers from an outside vendor who would custom build the website from the prototypes that I produced.
Define:

 We need to increase the visibility of information centered on our primary audience (prospective students) and provide an intuitive navigation experience through a tab structure for our multiple campuses. We needed a home page that was focused on prospective students rather than treating it as a depository of content for our internal constituents who all wanted a section of the homepage (as seen in the image of our old website below).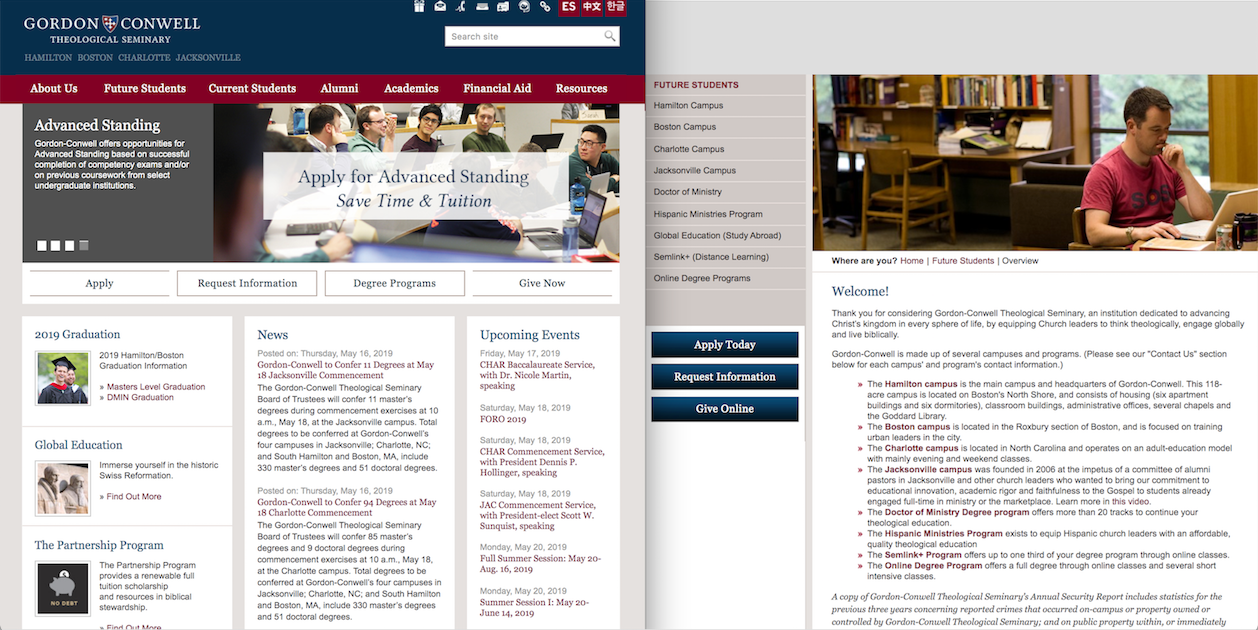 Discover:

 The scope of our research was two-fold: 1. We collected data that we gathered from our analytics to help us understand some of the pain points that were currently taking place on our website and 2. We conducted a series of user studies with two main groups: a controlled group that consisted of people who were interested in theological education and a non-controlled group that consisted of current students who represented our different campuses according to our persona analysis. Having the control group was imperative in our research because we knew from our data that the most frequented page (aside from the home page) was our degree programs page. Yet the bounce rate for that page was a striking 34%. The non-controlled group was important as well since current students were unable to locate pertinent pages that related to their specific campus.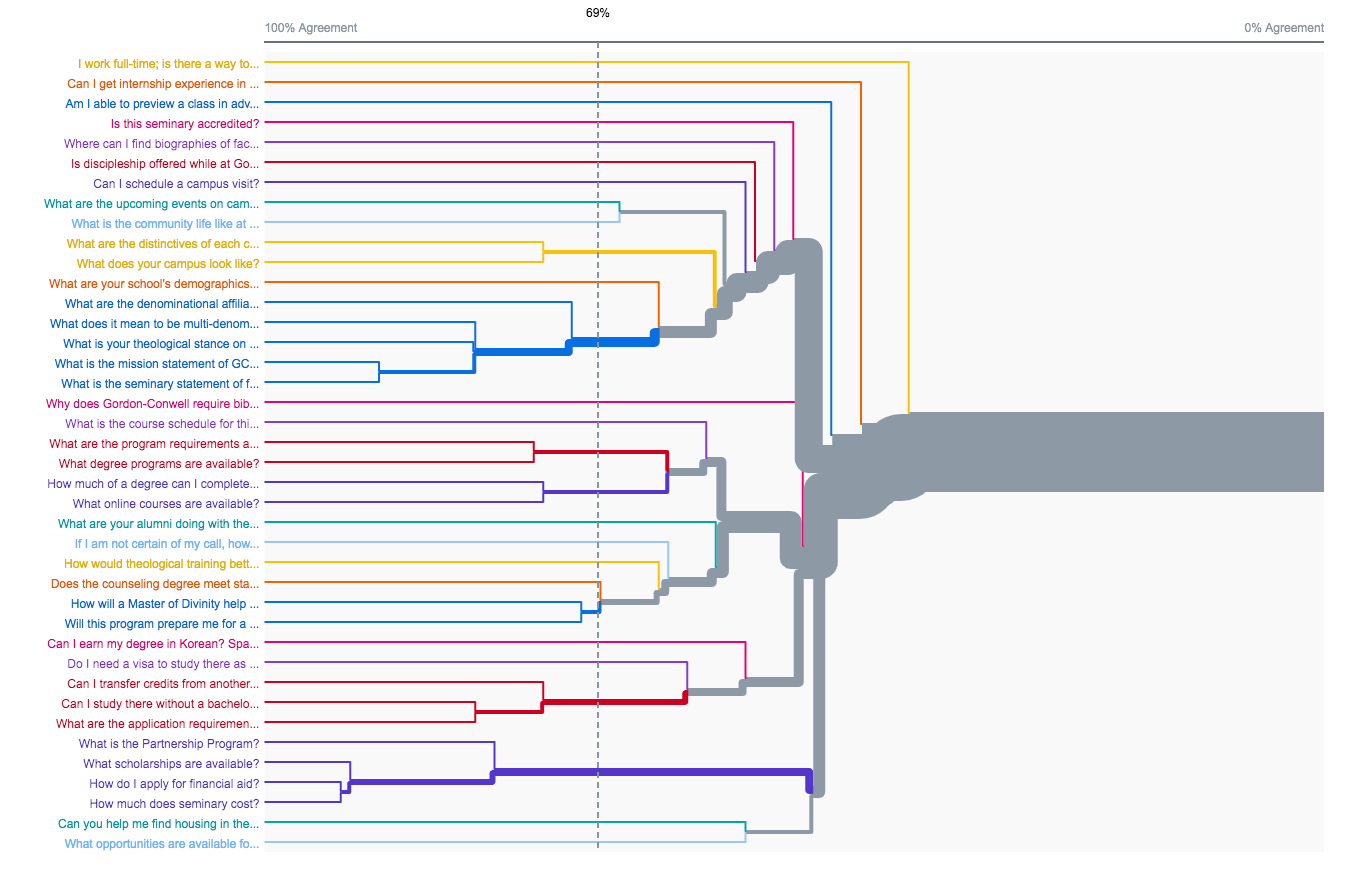 Insight:

 Our old website contained a main menu that had seven categories, but we knew that we needed to change this because after observing many students interact with the old website, we saw that they were frustrated by the overwhelming amount of information that was offered on the homepage. We conducted a series of tree testing and card sorting studies that helped us restructure the information architecture of our website, particularly when it came down to campus specific pages. This helped me sketch out multiple version of the new homepage where we consolidated categories according to the results from our card sorting surveys.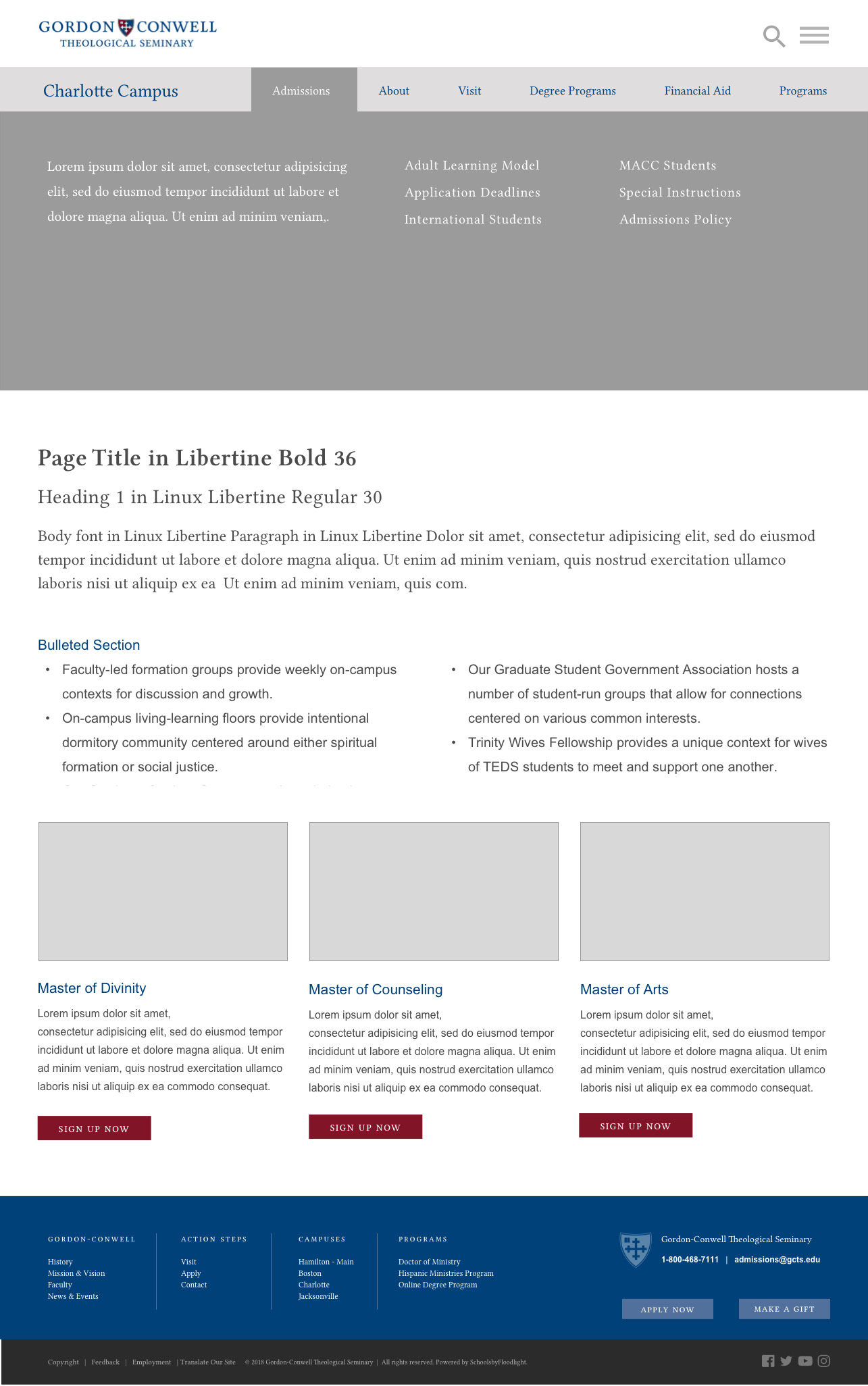 Develop:

 One of the many concepts that we had to test and iterate were our top 10 most frequented pages. One of these was our financial aid page. Though we thought we had placed that information on our homepage in a way that was clear and intuitive, we learned from our heat-mapped prototype (below) that it wasn't the case. 22% chose one menu item while 38% chose another. Scrolling down that page, there were others who clicked on a different items. From this exercise, we realized that our assumptions always needed to be double-checked with multiple iterations until there was a clearer consensus from the user's end.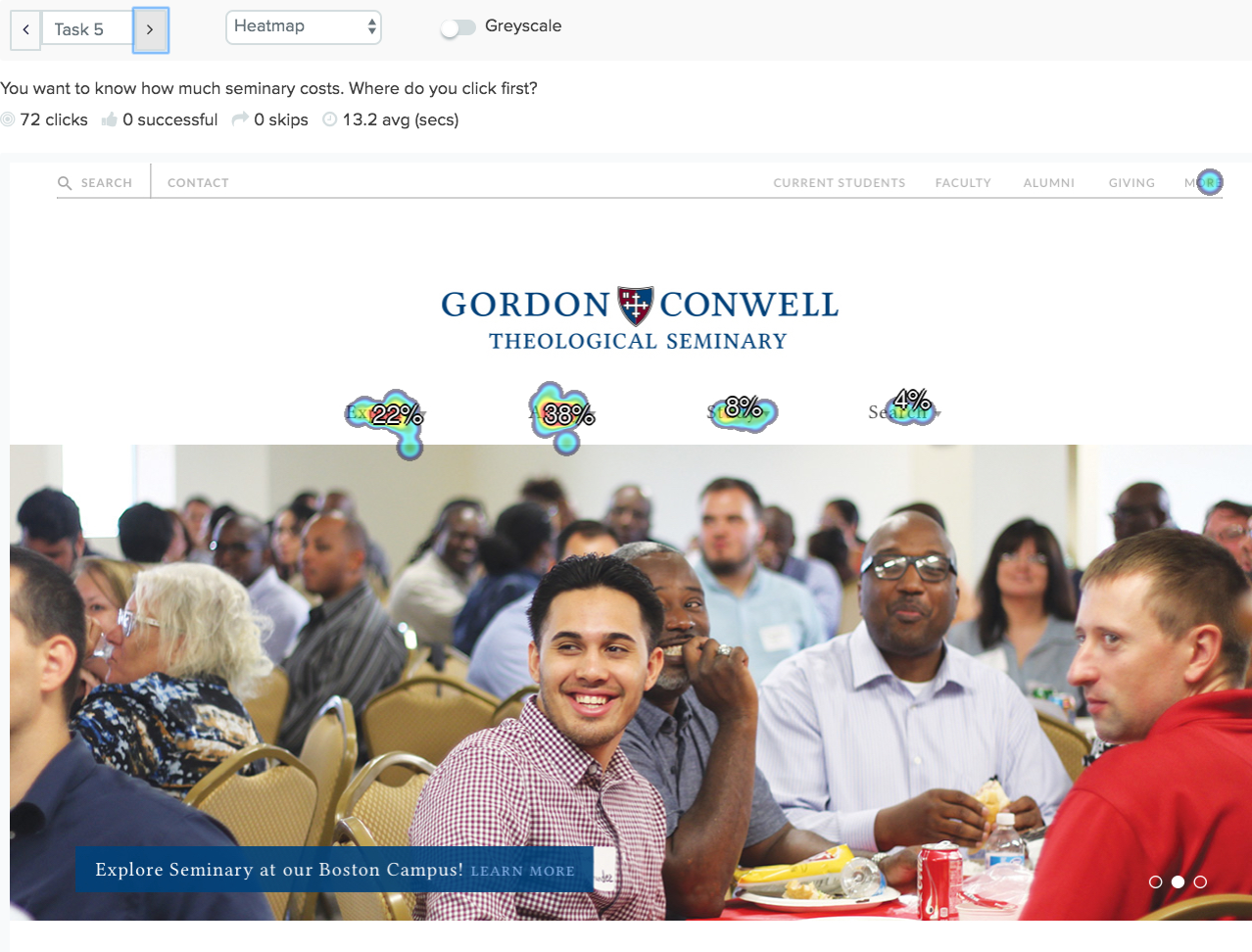 Develop:

 Another pressing issue that I had to consider was the fact that smart phones were the most used device when visiting the website, even more so than laptop computers. As a result, I designed a series of prototypes that displayed how the website would look on a mobile device. The tab structure was imperative for the overall navigation of our separate campuses, so we opted for two hamburger menu icons--one that would represent the main menu, and the second that would represent the respective campus menu (see below).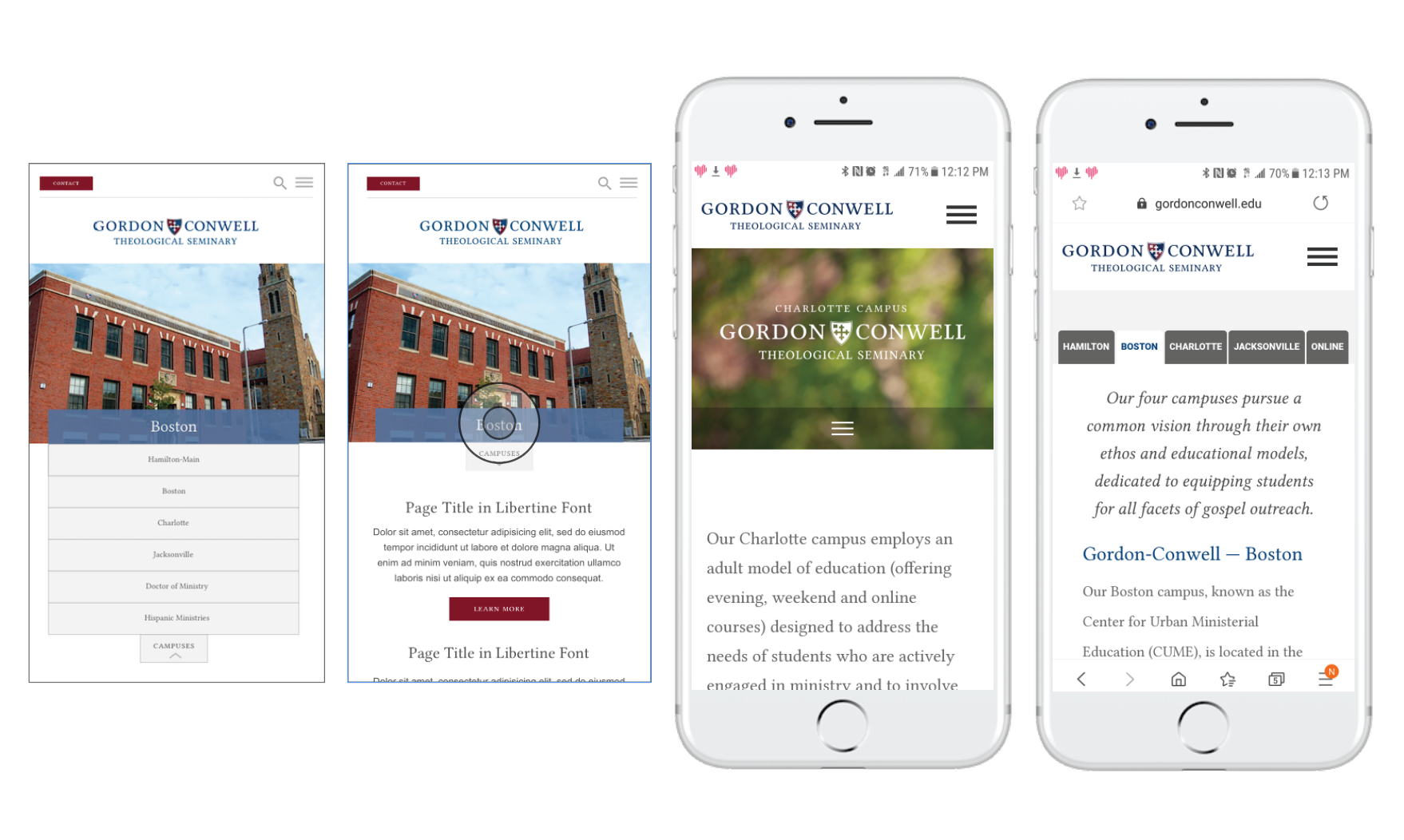 Delivery:

 After months of research and development (and 16,000 pages of data migration), our website was finally launched in April of 2019. Students, staff and faculty have commented on how much easier it has been to navigate and there has been increased web engagement and traffic. 
I continue to work on revising many more pages on our website through feedback and observation, but overall,  our analytics have provided promising data: 

Our bounce rate has dropped 97%. In July of 2018, more than half the people who came to our website landed on a page and then left without any further engagement. In July of 2019, the bounce rate dropped to less than 2%.